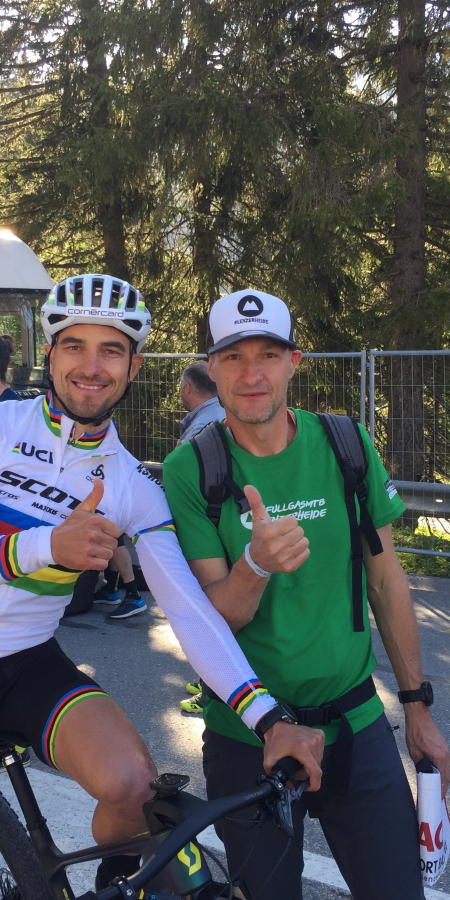 We asked our new OC president, Fraesy Föhn, four questions about our road bike marathon and our region. Learn more about the passionate sportsman.
What are you most looking forward to at the Engadin Cycling Marathon?
As the new OCP, I am looking forward to the challenge of organizing the ERM with the great OC team and creating the conditions for the participants to enjoy an unforgettable weekend in the region of the National Park. The cycling community is very diverse - exciting encounters and interesting conversations are guaranteed.
Describe your area of responsibility in a few words
The OKP has the big picture. My core operational task is to ensure that the individual departments are coordinated with each other and that the individual sub-tasks interlock, i.e. that on day X everything is ready for hopefully exciting and accident-free races and the participants* go home happy and satisfied after the ERM. In addition, there are many administrative tasks such as the preparation and management of the OC meetings, contracts, financing and budgeting. I also take care of the strategic development of the event and am the contact person for sponsoring. The OCP is the link between the various interest groups such as authorities, participants, sponsors, tourism, OC, volunteers and media. And, of course, a source of information and a point of contact for inquiries and concerns of all kinds. The job is very versatile, exciting, instructive and demands a lot of commitment - but is incredibly enjoyable. What more could you ask for?
What do you like most in the region of the Engadin Cycling Marathon
Uuh, this question is not easy to answer, because the whole region is just incredibly beautiful. Every place, every valley and every region has something unique. What fascinates me again and again is this peace and magic of nature as well as the blaze of colors of the forests in autumn. I like the hike from Tarasp-Fontana to Val Plavna over the Fuorcla da Val dal Botsch. From up there you have a magnificent view and then follows the descent in the middle of the national park to Il Fuorn. Grandiose landscapes paired with the tranquility - ideal for relaxing. And for the cyclists and mountain bikers is anyway the whole region of the Engadine a super playground - there is something for everyone - so my tip: go for it - you will find the ideal route and the ultimate trail.
Your insider tip in the region
The Val Mora - you have to see it. And among the villages, Guarda is worth mentioning. In summer, it is worth making a detour to Alp Laret above Ftan, where you can feast on fantastic Kaiserschmarren (produced by South Tyroleans).